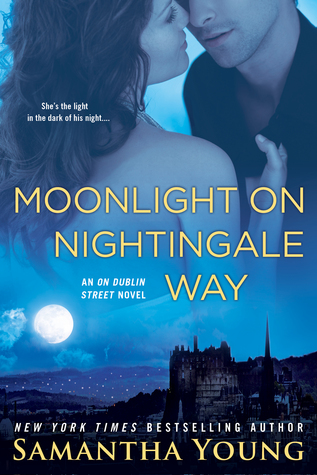 Book Title: Moonlight on Nightingale Way (On Dublin Street #6)
Author: Samantha Young
Rating:

Reviewer: Jenn
Moonlight on Nightingale Way is the final book in this amazing series, one that I've absolutely fallen in love with, and I'm going to admit I didn't want it to end. I love this series and really feel as though I've had the chance to get to know these characters, like they have become my friends and now I can add Logan and Grace to that list.
We first met Logan in Echoes of Scotland Street, he is Shannon's brother who has spent two years in prison and is now starting over. He just so happens to move in next door to the slightly up-tight Grace.
I have to admit that I absolutely adored these two from moment one. I loved Logan's cool personality immediately, I thought he provided a great challenge to the well put together Grace. He's so confident and sexy and yeah, just wow!
Grace is a very smart woman, living in her wonderful flat and working as a book editor. She has worked hard to be where she is, after a rough upbringing in a manipulative and unloving family. She's walked away from them and has built a new family for herself in her wonderful friends.
Logan and Grace don't have the best start, she hears Logan having loud sex with different women at first and the two do nothing but argue (in the best sexually charged, you know it's coming way.)
There's a twist that happens that will change both Logan and Grace's lives and it becomes up to them to move forward together, or can they? Logan struggles with where his priorities should lie as well as whether he truly deserves good things in life. Grace still has severe insecurities deep rooted in her by her family.
Samantha Young did a beautiful job brining these characters, all of them, together in one last story. I don't want to give away the story, it's wonderful and should be experienced without me spoiling it but I can say that once I started reading I couldn't put it down. This story captured my heart so completely.
"No man alive loves a woman as much as I love you."
I am sad to see this series end but the end was truly beautiful. I'm so happy I found this series and these amazing characters that will undoubtedly always have a place in my heart.
I received a complimentary copy to review for SMIBookClub.
~Laters, Jenn
About Moonlight on Nightingale Way
Last in the Series
Logan from Echoes of Scotland Street is back with his own smoldering story, as the New York Times bestselling On Dublin Street series returns…
Logan spent two years paying for the mistakes he made. Now, he's ready to start over. He has a great apartment, a good job, and plenty of women to distract him from his past. And one woman who is driving him to distraction…
Grace escaped her manipulative family by moving to a new city. Her new life, made to suit her own needs, is almost perfect. All she needs to do is find her Mr. Right—or at least figure out a way to ignore her irresistible yet annoying womanizer of a neighbor.
Grace is determined to have nothing to do with Logan until a life-changing surprise slowly begins turning the wild heartbreaker into exactly the kind of strong, stable man she's been searching for. Only just when she begins to give into his charms, her own messy past threatens to derail everything they've worked to build…