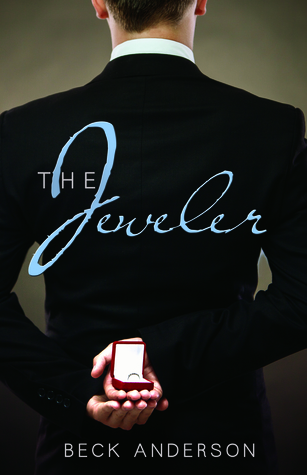 Adult Contemporary Romance 
Published by Omnific Publishing
Title: The Jeweler
Author: Beck Anderson
Reviewer: Midian
I absolutely love it when a book stays with me, I just love it.
Normally, when a book stays with me, it's because I was able to relate to one of the characters. I never expected to relate to Fender so much, it's like Beck Anderson wrote me in him.
His sarcasm, overall view of life, and other people, it was awesome.
The relationship he has with his dad is not the most functional one, but it is awesome too.
Fender doesn't buy the whole Love she-bang, he is cynical about it, and he spends more of the time in his jewelry shop mocking his clients, until he is struck with an encounter that will change his whole POV.
Ginger is a nice girl, but I must admit it would take a change of personality from her in order for me to want to be friends with her. I guess is just the fact she was too preoccupied with making sure everybody else was happy, and I needed HER to be happy.
The secondary characters are funny as hell, like Fender's best friend, Sam.
"Hope that's not your competition. He looks like he does healthy things regularly. I hate guys like that"
And then, HIS DAD! OMG Pops was awesomesauce!
"To whom is God speaking? That can be a sign to seek medical help, you know. Who's the one hearing voices?"
And then he would say deep things like this and I would feel like getting it in a necklace.
This is a story that shows how people act in front of something as consuming as grief, it shows how everybody has demons, and how we need to deal in order to move on, and you don't know what's waiting for you at the end of that journey.
ABOUT THE JEWELER
Fender Barnes profits from an institution he doesn't believe in: marriage. He's a talented designer, but a reluctant jewelry store owner, thanks to his pop's retirement. He's cynical, he's jaded, he's not entirely certain about the concept of love, but he's happy to sell an eager young guy an engagement ring for his fiancée to be—until moments after the transaction when that eager guy is hit by a car and killed, and Fender's conscience pays a rare visit.
He retrieves the ring and decides to find the woman his customer intended to marry. That woman turns out to be Ginger Stevens, twenty-something ski instructor, who—despite being full of guilt and self-doubt after the death of her boyfriend—is someone Fender finds he quite enjoys being around. He's smitten.
Which is all well and good, except that after he meets her, Fender can't do it. Though it's right there in his pocket, he can't tell her about the ring. Instead, he embarks on a long, ridiculous quest to find a way to tell her the truth he knows she deserves. Aided by advice from Pop and the antics of his best friend Sam, Fender tries desperately to juggle his budding romance with the reality he knows could ruin it.
Will he find love or foul it up? Can Ginger move out of the past to embrace what the future has to offer? Meet this unlikely pair in Beck Anderson's heartfelt and fabulously funny second novel, The Jeweler.
About the Author
Beck Anderson loves to write about love and its power to heal and grow people past their many imperfections. She is a firm believer in the phrase "mistakes are for learning" and uses it frequently to guide her in writing life and real life.
Beck balances (clumsily at best) writing novels and screenplays, working full-time as an educator, mothering two pre-teen males, loving one post-40 husband, and making time to walk the foothills of Boise, Idaho, with Stefano DiMera Delfino Anderson, the suavest Chihuahua north of the border.